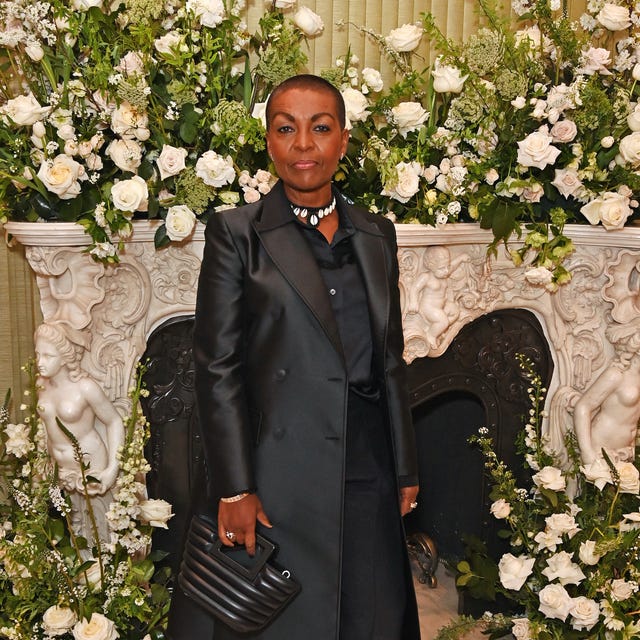 'My Walls Are Museum Red'
David M. BenettGetty Images Out of all the homes featured in Bridgerton's second season, it's
David M. BenettGetty Images
Out of all the homes featured in Bridgerton's second season, it's Lady Danbury's dusky pink interiors that have got us talking. But in real life, actress Adjoa Andoh has a more daring hue adorning the walls in her home.
'My walls are museum red apart from one room, which is a dark slate grey and another that is old English white,' Adjoa tells House Beautiful. 'The house is so light, I wanted a colour that framed the space – the paintings, the piano, the furniture. It's the same colour that JMW Turner liked to have his paintings exhibited against. Cosy but presentational.'
We love Adjoa's bold choice of colour. Loud and flamboyant, the colour red can make a room come alive. From the strongest hues of scarlet and crimson to more subtle rust and raspberry shades, red is commanding, but used as a primary colour on walls can look warm and inviting.
Adjoa describes her townhouse home as her sanctuary. 'I live in a modernist, wooden-clad, concrete-and-brick 1964 ex-council townhouse in the middle of a Victorian terrace that got bombed in the war,' she says. 'In the garden, I've found Victorian tiles and an intact iron range cooker, which took me nine hours to dig out! I've got floor-to-ceiling windows – it's open plan with open staircases. It's beautiful and spacious.'
Growing up, the actress lived in a little flat in Leeds until she was four, before moving to a tiny farming village in the Cotswolds. Adjoa describes the 16th century terraced cottage as having two-foot-thick walls, stone-clad floors and inglenook fireplaces. 'It was a lovely rural English environment – lots of cows and sheep,' she adds.
While Bridgerton is making us long for regency-style interiors – grand, opulent and regal home decor – Adjoa reveals that her best home bargain takes pride of place in her living room.
'My biggest bargain is a delicately carved chaise longue that my mother bought for about £20 at auction in the early 1970s. It's in my living room and is beautiful,' she tells us.
And Adjoa's biggest extravagance? 'A big old, white floor-to-ceiling armoire – my aesthetic is a bit country. It has shelves with long doors and cupboards with small doors at the bottom and lives in the kitchen with all the crockery in.'
Starring as Lady Danbury in Bridgerton (currently streaming on Netflix), Adjoa's next TV project will be the new Netflix x Shondaland limited series based on the origins of Queen Charlotte. The Bridgerton prequel focuses on the rise and love life of a young Queen Charlotte, as well as Violet Bridgerton and Lady Danbury.
Adjoa has long been a familiar face across TV, film and theatre, known for her roles in Casualty, Doctor Who and Silent Witness, to name a few, as well as narrating Escape to the Chateau: DIY.
Follow House Beautiful on Instagram
---
This content is created and maintained by a third party, and imported onto this page to help users provide their email addresses. You may be able to find more information about this and similar content at piano.io