The Edmonton Home + Garden Show is back and brimming with inspiration
This article is Sponsored This story was created by Content Works, Postmedia's commercial content division,
The show runs March 24 to 27 at the Edmonton EXPO Centre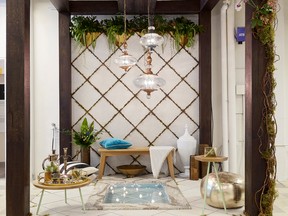 Article content
Hoping to transform a tired patch of grass into an outdoor oasis, but not sure where to start?
Article content
"Get creative," encourages Jennifer Hughes of Turquoise Chair. "That old wagon in the backyard? Fill it with flowers." In summary: there's no wrong way to get started, as long as you get started.
Hughes is one of the many experts who will be sharing smart design tips at the upcoming Edmonton Home + Garden Show. Her fresh spin on a garden party vignette will serve as the lush backdrop for the Trail Appliances Home + Garden Stage, where presenters will share topics like trends in home and garden improvements for spring.
In addition to talks by local celebrities and industry experts, the Show will play host to more than 400 booths, all mapped out in an interactive exhibitor list so you can plan your route in advance.
In her whimsical take on an outdoor get-together, Hughes will illustrate how accessible style can be.
Article content
"I always like creating a space that people can remember," says Hughes. Watch for plenty of pops of vibrant colour, juxtaposed with more earthy, terracotta pieces, as well as lush greenery and hanging floral installations.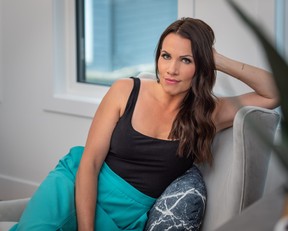 One way to refresh any space for spring? Repurpose old items in unexpected and new ways and integrate them in a design, inside or out. For instance, a well-worn tool like a wooden trunk can make for an interesting planter.
And, Hughes says, items like an old lattice or ladder can be revived with a little bit of imagination, reworked into something like a bespoke light feature or used as overhead scaffolding to hang flowers or greenery.
In addition to looking good, upcycled items often carry sentimental value and hold histories, says Hughes, which is another way to add layers to a space and personality.
Article content
Investing in a new look for your outdoor areas can really make a home feel larger and create a place to escape, says Brad Wyness, owner of landscape and design build company, Evolve Landscapes.
"It extends your house outside your walls," confirms Wyness, adding this is even more critical right now since the pandemic has kept people from vacation plans and travel. "People are looking at their backyards as an escape."
People can experience this sensation for themselves by visiting the landscape Wyness is creating for the Show's VanLife feature, which is centred around renovated sprinter camper vans.
"What we're trying to replicate basically is a campsite — the outdoors," says Wyness, adding it will feel like a natural setting with trees and greenery, a respite in the midst of the bustling Home + Garden Show event.
Article content
When it comes to updating your own outdoor space, he advises people to start any project with a clear plan or design in mind.
"Plan it out and then you will have a little oasis in your backyard," says Wyness.
Soften the edges of a lawn or garden by planting inward and consider what conditions are needed for specific hedges, shrubs and flowers to flourish and thrive.
Anything else? "Location, location, location," he emphasizes. "You really do have to know your plant matter a bit and again, I suggest people either do the research or hire a professional."
Wyness anticipates some trends will continue in popularity this year, like adding outdoor bars and kitchens to homes. Think pizza ovens under the stars.
Gas-fueled fire tables are another hot item since they offer warmth and ambience with the flick of a switch.
Finally, he notes, don't forget practicalities like irrigation and lighting, which extend the amount of time people can be outside, even long after the sun has set.
"As soon as dusk comes, lighting will take the space and recreate it," he notes.
For more information on the Edmonton Home + Garden Show, happening March 24 to 27 at the Edmonton EXPO Centre, visit edmontonhomeandgarden.com.
This story was created by Content Works, Postmedia's commercial content division, on behalf of the Edmonton Home + Garden Show.